Imagine a world where policy is debated in new ways
I came to Brussels to work in the European Parliament just before the Fall of the Berlin Wall. The feeling of optimism for positive change and building bridges for a better world remained with me.
A fast paced trajectory in my 20s took me from London to New York, from national to geopolitics, from crisis management to sustainability strategies. Handling media and government relations on BSE for the food industry, then building strategic partnerships for the world's biggest branded goods company, I gained perspective on power structures, and practice in designing masterful plans for change.
At peak career I had twins and awoke to gender, social and environmental injustice. Working for the good of the planet and society became my purpose. Global movements for environmental and social rights were coming together in the late 90s, planting the roots of sustainability and branches of intersectionality.
Bringing my knowledge and skills to the NGO world unleashed a new style of integrated advocacy and communication campaigns yet unseen in Brussels. A new era of precautionary principle, public participation and lobby transparency was set in train. A power shift was underway, one campaign at a time, building NGO coalitions, challenging industry to become a force for good and seeding the EU Green Deal within the Institutions.
In my heart, I knew I wanted to carve my own unique path in the Brussels bubble to contribute valuable experience as an agent of change.  I consider my clients as partners in change. They trust me to deliver on their expectations, with creativity and integrity. Conscience Consulting has partnered with progressive business, NGOs and institutions to define sustainability communication, design iconic campaigns and deliver systems change advocacy.
I love to share my knowledge, skills and networks of 30+ years. I lecture in climate diplomacy and strategic communication for the Master's programme at CIFE in Nice, Rome and Berlin. I have trained 1000+ professionals in advocacy and communication over 15 years in 100s of organisations including UNHCR, Open Society, Amnesty and Oxfam. I have hosted 50+ events in the past 5 years, chairing debates on climate and sustainability with speakers from the New York Times and the Financial Times, the Cambridge Institute for Sustainability Leadership and the European Institute for Environmental Policy, Greenpeace and Burning Man, the European Commission and the European Environment Agency, together with Senior Vice Presidents from progressive companies, civil society and activist leaders. I am invited regularly as keynote speaker at international sustainability and communication conferences.
1998: 
GMO campaign for the right to choose results in EU laws on labelling, a ban on planting and cultivation and decade-long media headlines
1999: 
Campaign against phthalates results in the first-ever emergency withdrawal of baby toys from shops across the EU
2000: 
Campaign for information on health risks from unsafe food, in the aftermath of BSE, leads to creation of the European Food Safety Agency
2001: 
Campaign from Awareness to Action results in the REACH legislation regulating chemicals, and enshrines the precautionary principle in EU law
2001: 
Campaign for Access to Medicines in the developing world challenges the TRIPS Agreement and results in mainstream availability of generic HIV drugs
2002: 
Campaign to expose the environmental and social conditions of workers in the global consumer goods supply chain 
2002: 
Campaign for corporate accountability at the World Summit for Sustainable Development leads delegates to call for action
2003: 
Campaign for sustainable agriculture creates a new second pillar of the EU Common Agricultural Policy dedicated to nature
2004: 
Campaign for lobby transparency results in the set up of the mandatory EU register for lobbyists
2005: 
Campaign to mobilise European youth against climate change brought 1000s of painted messages as an art installation to the UN Climate Summit in Montreal
2006: 
Campaign to shine light on the extent of corporate power over EU trade policy results in WTO reform 
2007: 
Campaign for action on climate change results in the first EU climate strategy celebrated by 1000s of activists in Place Schuman
2008: 
Campaign to raise awareness on passenger rights in Europe. Conscience created messages and materials still in wide use today 
2009: 
Campaign engages 10s of 1000s online in support of nature protection for the 2010 International Year of Biodiversity 
2010: 
Campaign for Future Justice results in calls for an Ombudsperson for Future Generations at the 2012 Rio Earth Summit
2010: 
Campaign mobilises consumer support for sustainable fishing practices and urgent reform of the EU Common Fisheries Policy 
2011: 
Campaign for youth awareness on healthy food and sustainable agriculture mobilises young people behind 2012 CAP reform
2011: 
Campaign gathering 50 global thought leaders creates the World Future Council Manifesto for a Sustainable Future advocating 22 policies for global system change
2012: 
Campaign for Sustainable Aviation creates an open-space roundtable for Airbus to dialogue with EU Green 10 NGOs
2014:
Campaign to raise awareness on growing economic inequalities results in call for sustainable finance strategies at the G7 Summit
2015:
Campaign to save the Circular Economy policy proposal results in renewed political commitment to circularity by the European Commission.
2016:
Campaign to bring civil society voices to international media during Afghanistan Donor Summit creates pressure on world leaders for funding conditionality with women's rights and social justice
2016:
Campaign for divestment from fossil fuels launches with investigative report calling for ban on oil industry subsidies
2018:
Campaign for Sustainable Finance brings indigenous environmental defenders to the European Parliament to advocate for mandatory due diligence in supply chains to protect the world's forests
2018:
Campaign Think2030 promotes 30 policies for system change resulting in a strong EU sustainable development strategy and EU Green Deal
2019:
Campaign to mobilise global youth to engage in positive actions for the climate results in activation of EU Delegations behind Green Deal ambition
2020:
Campaign for radical decarbonisation of materials builds a multi stakeholder coalition for policy dialogue around a joint call to action
2020:
Campaign linking the health of democracy to climate action results in rooted collaboration methodology for European cities
2021:
Campaign to raise awareness on mental health secures political commitment for EU mental health strategy
2021:
Campaign for a nature based approach to food and farming policy to replace chemical pesticides with biocontrol
2021:
Campaigns for community resilience and digital transformation designed with Young Elected Politicians of the EU Committee of the Regions
2021:
Coalition for Higher Climate Ambition strengthened with a new narrative to ramp up EU climate action
2022:
Campaign to mobilise policy makers and influencers to Speak Up for mental health and invest now in future generations
We make sense of complexity in simple narratives that engage new audiences. We have drafted and edited compelling content in 100s of position papers, brochures, press releases and reports. A selection is below.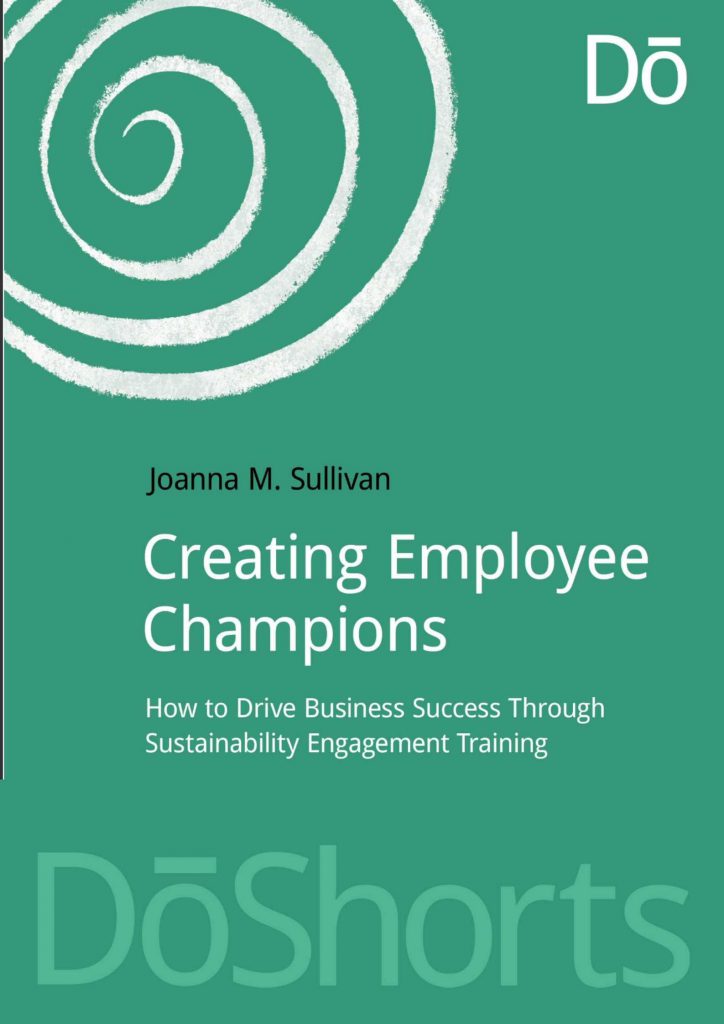 Creating Employee Champions
How to Drive Business Success through Sustainability Engagement Training.
Disengaged employees cost companies billions in lost productivity and high turnover rates. Integrating sustainability into the soul of your business can unleash an "upward spiral" of engagement, and turn your employees into sustainability champions.
Making business sustainability part of the job description drives employees towards collaboration, community and commitment. It transforms employees into authentic brand ambassadors and companies into movements. In addition, companies that embed sustainability are better positioned to anticipate and adapt to changing market conditions.Creating Employee Champions offers a three-step method for sustainability engagement training, and a paradigm shift in employee engagement and business sustainability.
Use it to transplant NGO DNA into business DNA, so you can inspire hearts and minds, engage employees, foster dynamic commitment to meet sustainability goals and equip employees to engage with external stakeholders.
"For future just societies we need to bring sustainability to the heart of business. Joanna Sullivan shows how this helps our planet flourish - and even more the people involved."
"In future companies will be evaluated not only according to earnings and profit, but in how companies educate their employees on sustainable development to care for society, for our planet."
"A must read and must act upon. Our engagement with the health sector shows again and again, if managers apply sustainability criteria in their work they achieve a triple win: improved satisfaction of patients, engaged and highly motivated staff and less harm for the environment. I can highly recommend reading this book, a win all round."
I lecture in climate diplomacy and strategic communication for the
Master's programme at CIFE
in Nice, Rome and Berlin. I regularly write articles posted on
LinkedIn
and am asked to write bylines for specialist magazines. Browse this snapshot of my articles.